As tributes continue to pour in for the demise of Stephen Keshi and Shuaibu Amodu, two former Super Eagles coach, there have also been mixed feelings over the call to immortalise them.
Keshi, 54 died in Benin, Edo State last Wednesday, at age 54, while being taken to hospital after he complained of an illness, while Amodu died in his sleep, at age 58, early Saturday morning in his house at Delta Crescent in GRA of Benin City.
On the immortalization of the duo, Sports broadcaster and consultant, Ken Ochonogor said he will never ask the NFF to immortalise the two great coaches because of the unfair treatment meted to them.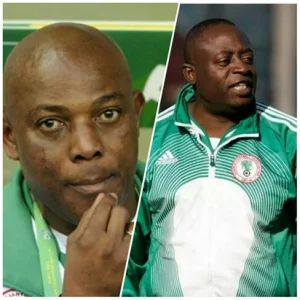 In his words: "I will never ask the Nigerian football authorities to immortalise either Keshi or Amodu, because they have been unjust to these two icons. They sacked Amodu four times; they never paid his entitlements.
"They framed Keshi up, sacked him and never paid his entitlements. If these icons are to be immortalised, it's the Nigerian people that should immortalise them and not the Nigerian football authorities.
"They have been insensitive, callous and have contributed to the problems these coaches faced while alive. So, it would amount to a height of hypocrisy to ask those who showed little or no concern to these men while they were alive to come and immortalise them while they are now dead. It would be a travesty of decency."
Ochonogor said this at the farewell match held in Lagos in honour of Paul Ighalo, the father of Super Eagles and Watford Striker, Odion Ighalo.
Vanguard