After being married without issue for 10 years, a couple has given birth to five kids, the first quintuplets' birth recorded at the University of Calabar Teaching Hospital (UCTH) in Cross River State.
The three girls and two boys, born between 10:50 a.m. and 10:54 a.m. on Monday, weighed between 1.45kg and 1.75kg.
They are currently in the Special Care Babies Unit of the Teaching Hospital and are in stable condition.
Wife of the Cross River State Governor, Dr Linda Ayade, who was among other persons that visited the first time parents, with the first of its kind delivery, happily announced the donation of one million Naira in support of the needs required by the family.
"This is a sign of good tidings in the state and country at large and I want to thank the new mother for opting for professional services of birth attendants," she said.
Mrs Ayade did not only make donations to the couples but also gave another 500,000 Naira to the medical experts who aided the woman deliver the babies safely.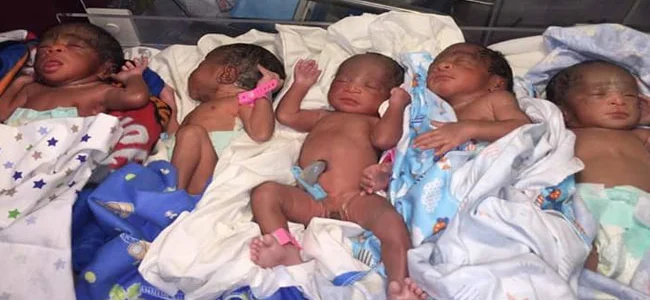 The quintuplets. Image: Channels
The father of the quintuplets, Dr. Ekpo Edet, thanked God for answering his prayers of ten years, as according to him, God alone could have done it.
"I want to thank God almighty. He is a faithful God. For the first time in the history of Cross River State, the first time in the history of UCTH, five at a go.
"God has just been faithful, as we have concluded the first phase and the doctors have confirmed that the babies are kicking.
"We are entering into the second phase and I know it is not going to be easy but I solicit for support from all well-meaning Nigerians. All my friends and well-wishers in taking care of them in this recession," the father of the children requested.