Lagos State Governor, Akinwunmi Ambode, on Monday signed the 2017 budget of N812.998 billion into law.
The budget passed by the State House of Assembly last week at the State House, Ikeja.
Ambode, while signing said the budget was in line with the State Development Plan 2012-2025 and the Medium Term Expenditure Framework for 2017-2019.
"Our goal is to consolidate on the modest milestones recorded in the last 18 months and propel our State to a path of prosperity in line with our four pillars of development plan. These pillars of our State Development plan are: Infrastructure Development, Economic Development, Social Development and Security and Sustainable Environment.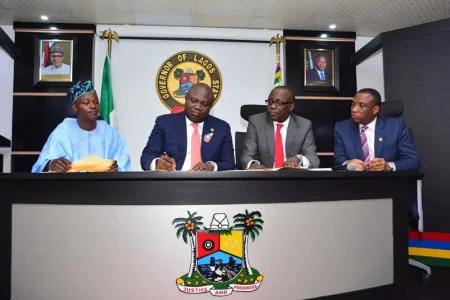 "We are optimistic on the recovery of our national economy this year. We are encouraged by the budget performance of last year (2016) which stood at 78%. Our total Capital Expenditure in 2017 will be N507.816bn while Recurrent Expenditure is estimated at N305.182bn.
"Our government is committed to prudent financial management and equitable allocation of resources for the general good and will ensure proper fiscal discipline in the implementation of this Appropriation Law," he said.