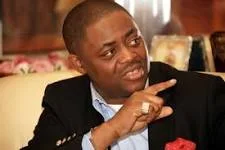 Former Minister of Aviation, Chief Femi Fani-Kayode, while speaking with newsmeen in #Osogbo, has again challenged the All Progressives Congress to explain its relationship with the dreaded Islamic sect, Boko Haram, saying the party was not able to controvert him, few months ago, when he accused it of sponsoring the sect.
"The APC in the North is the political wing of Boko Haram in the northern part of Nigeria. This, I have said before and no one amongst them was bold enough to challenge me. I will continue to say it again and again. The northern elements in the #APC have to explain to all Nigerians why some of their leaders in the North support, encourage and defend Boko Haram members."
"No member of the APC has been bold enough to controvert what I said about their relationship with the Boko Haram members in the North. I stand to be challenged if any of them has a contrary view."
Fani-Kayode, who recently defected from the APC to the PDP, also said he had met with the people that matter in the PDP including President Goodluck Jonathan and they had assured him of an enabling stay in the party.
He said he would work for the victory of the #PDP in the forthcoming governorship in Osun State and also contribute to the victory of the party in the 2015 general elections. He added that the PDP remains the only national party in the country.
Fani-Kayode however refused to comment on his meeting with President Jonathan, saying "I will not like to reveal what we discuss in the secret. It was a closed door meeting and let us leave that for now."
In his reaction to Fani-Kayode's comments, the National Publicity Secretary of the APC, Alhaji Lai Mohammed, according to The Punch said that the party would rather spend its time on more productive ventures than respond to the former aviation minister's allegations.
#BokoHaram #Nigeria
Last edited: