The All Progressives Congress, APC south west reconciliation meeting ended on an icy note On Thursday as former Lagos State governor, Asiwaju Bola Tinubu and some close allies walked out after the first round of a two-stage meeting despite persuasion to stay.
While Tinubu and others were seriously angry, Fayemi was said to be holding Ibikunle Amosun's hand in unity while Babatunde Fashola stood apart, smiling occasionally.
According to Vanguard sources, the first round of the meeting in the Executive Chamber of the Oyo State Governor's Office lasted about four hours with all invitees in attendance.
"When the meeting ended at about 5:05 pm, Tinubu wore a hard countenance likened to a lion fresh from a battle as all the persuasive moves by Abiola Ajimobi of Oyo state for Tinubu to tarry a little for the second meeting were rejected as he immediately drove away in a Range Rover Sports Utility Van leaving some of his aides behind.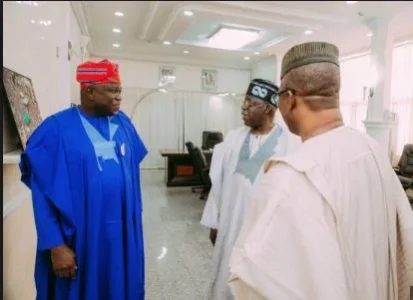 Fayemi, a political disciple of Tinubu was, on the other hand, smiling all through. "When Tinubu posed with others for a photograph, he had to be persuaded to soften his mien for the photographs. He then feigned a dry smile and immediately after, he again assumed a tough mien as he strode towards his waiting vehicle".
The cat was, however, let out of the bag when Fayemi burst into a song, still holding the hand of Amosun. He sang one of King Sunny Ade's tunes…Ko le se kija ma wa o, bi ija ba de o, se lo ye ka pari e, ko le se ki ija ma wa o..meaning misunderstanding is unavoidable, when it occurs, we ought to settle it. Amosun, however, cautioned Fayemi to stop the song.
While Tinubu, Ambode, Aregbesola and Amosun left after the first meeting, Akande held the second round of meeting with the ministers. The second meeting involved all the ministers, including Fayemi, Shittu, Adeosun, Ajimobi and Isaac Adewole.