Audu Ogbeh, Nigeria's Minister of Agriculture and Rural Development today said a lot of Nigerians are not eating well but feeding on poisons.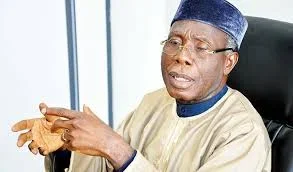 Ogbeh made the comment at the re-inauguration of an Inter-Ministerial Agricultural/Nutrition Working Group in Abuja. Ogbeh noted that many Nigerians prefer to swallow foods like yam, cassava, sorghum, maize among others which, he said, are injurious to health.
He said, "There is crisis in Nigerian food sector because there is a great deal of self- poison in our diet.
"Just yesterday, I was talking with the Ministers of Science and Technology as well as Health about a great deal of metal poisoning in our food and the ingestion of dioxin through plastic pathogens among other things."
''How do we persuade people to take more of fruits as against the carbohydrate they are used to?
''For instance, it is an insult in some villages when you tell an elderly man to take banana instead of the pounded yam he is used to. That means most Nigerians are not eating well," He added.