Disaster struck in Uzama Street, Off Oliha Quartres, in Egor Local Government of Edo State, when a church building collapsed, killing no fewer than three people.
This incident occurred on Friday.
According to the PUNCH correspondents, the building belonging to a popular Pentecostal church caved in when some hired youths were carrying out demolition exercises to create more room in the church compound.
"The owner of Christ Chosen Church Deliverance Centre told us to demolish the building because they wanted more space in the compound. But some of us went out to eat because we were hungry.
"As we were eating, many people rushed to where we were coming from. We thought it was a fire outbreak. But when we got there, we discovered that the building has collapsed.
"We were nine in number but four of my colleagues were in the building before it collapsed. Two were brought out alive with injuries. One died and two others are still inside.
"We have already demolished the upper part of the building and wanted to break the pillars of the lower parts, so that the building would fall. It was when one of us started work that the building fell," he said.
Click here to read more
Source: #PUNCH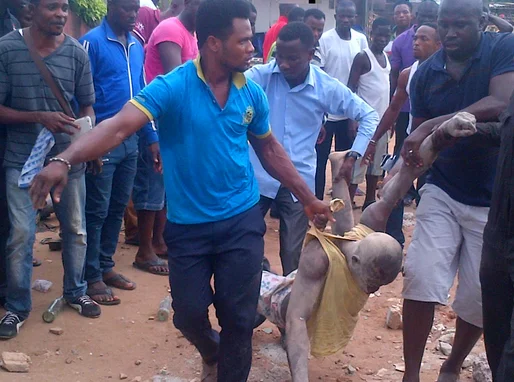 (Photo credit: Alexander Okere)