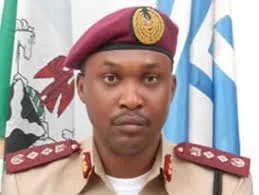 Mr. Osita Chidoka, the former Corps Marshall of the Federal Road Safety Corps, FRSC, has been named as the new Aviation Minister by President Good luck Jonathan.
Mr. Chidoka was sworn in Wednesday alongside Abubakar Olanrewaju, who was appointed National Planning Minister.
Mr. Olanrewaju, from Kwara State, replaces Shamsudeen Usman, who was removed last September.
Mr. Chidoka replaces Stella Oduah, fired in February amid allegations of mismanagement of public funds.
Until Mr. Olanrewaju's appointment, the National Planning Commission was supervised by the Minister of State for Finance, Bashir Yuguda.
Premiu, Times reports that the two new Ministers were sworn in shortly before the commencement of the weekly meeting of the Federal Executive Council, FEC, Wednesday.