Ekiti State Governor and Chairman of the Peoples Democratic Party (PDP) Governors' Forum, Mr Ayodele Fayose has called on Nigerians to rise in unison to pray to God to save Nigeria from imminent collapse, lamenting that "Nigeria is in dire need of divine salvation at this critical time."
The governor said it was time for men of good conscience to come together, irrespective of the political affiliations to salvage the country from this present state of uncertainty, which was occasioned by the cluelessness and insincerity of the All Progressives Congress (APC) led federal government, saying; "It is painful that those who used falsehood to take over power are still ruling the country with lies."
In a release issued on Wednesday by his Special Assistant on Public Communications and New Media, Lere Olayinka, Governor Fayose asked; "For how long is Nigeria going to be governed based on lies, vendetta and political intolerance?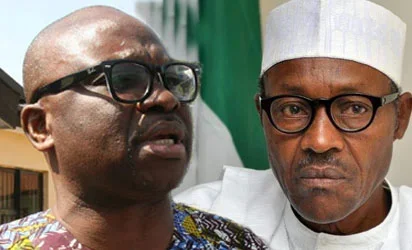 For how long is this so-called fight against corruption going to be about members of the opposition alone?"
"The economy is almost gone, with nothing being done to revive it.
he said the rights of Nigerians to choose who govern them in a free, fair and credible election no longer exist.
"Most importantly, apart from economic uncertainty, the country is also faced with political uncertainty, such that there is palpable anxiety as to what to expect next.
"Therefore, Nigeria needs divine help more than ever before and lovers of the country must keep praying to God to in His infinite mercies, intervene in the affairs of Nigeria."