Ekiti State governor, Ayodele Fayose, has called on Nigerians to continue praying for President Muhammadu Buhari's full recovery.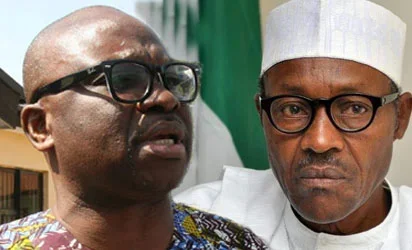 He said Buhari still had the task of fixing the many problems plaguing the country.
The governor made the call on Friday while signing a condolence registrar in honour of the late ex-Military Governor of the defunct Western Region, General Adeyinka Adebayo in Ado-Ekiti.
He said: "What is important is that for the President to stay away for that long, anybody would feel concerned about it. So, we pray that may God give him the strength to do his job.
"He has a job to do, so we will continue to pray for him to be well to fix the economy and put food on our table. We cannot task a sick man on these challenges, we will continue to pray for him to be well and bring the Dollar back to N200 or less.
"We don't have power over life and we have to continue to thank God that the President is alive strong and back. Anybody can be sick whether you are young or old. What is important is that God should give him the strength to be alive and do what we expect him to do for our country.
"I just learnt that he said he would be going back in a few weeks' time, we have to keep our fingers crossed.
"There is no doubt that age is not on his side like every other person and there are many health challenges that come with ageing.
"What is best is that we continue to pray for him because the Holy books say we should pray for our leaders in authority."