For the wrong reasons, controversial Nigerian Senator, Dino Melaye has been in the news. It has been over an allegation by online news channel, Sahara Reporters, that the lawmaker did not graduate from the Ahmadu Bello University, Zaria – an allegation which the Senate ordered probe into. The Vice Chancellor of ABU, Ibrahim Garba appeared before the Senate Committtee on ethics and privileges yesterday, and affirmed that Dino Melaye graduated from the institution.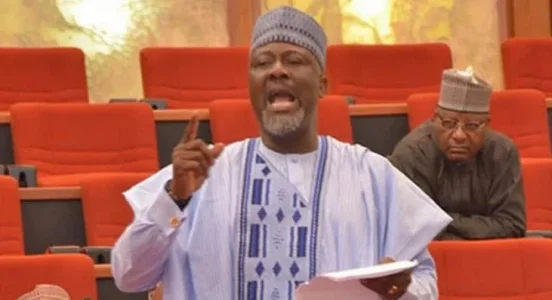 Shortly after the panel session, the Senator released a video where he is seen singing and dancing. In the video, Melaye sings in Yoruba language: Aje ku iya ni oje, ajeku iya ni o je, eni ti o to eni no, ton de na de ni, which translates as "you will be beaten mercilessly if you fight someone who is stronger than you".
To many as it appears, Melaye was taunting his opponent with that video clip. To him, he seems he has gotten away with it, and triumphed over his enemies. But in other climes, such controversies are not taken lightly as we do in Nigeria. When such grave allegations are levelled against a government official, (s)he either bow his head in shame – expressing modicum of remorse – or exit office quietly, honorably.
And well, the battle is not yet over for him, there are still allegations against him bearing on his final results and questions that beg for answers from both the senate and the management of the institution. Some of which are asked
here
.
READ: Certificate Controversy: 5 Key Questions ABU VC Failed To Answer
But what are those things that would have happened to Senator Dino Melaye if this controversy were to be outside Nigeria? Here are some of those thing as compiled by
Nigerian Bulletin
They include:
1. Besides the 'hasty--caucus' Senate Probe, the Senate would have placed him on temporarily suspension while thorough investigation goes on.
2. Dino Melaye would have faced the law and probably impeachment process.
3. He would have honourably resigned as Senator of the Federal Republic of Nigeria.
4. He would have been recalled from his constituency for involving a certificate scandal when thousands had PHDs in his ward.
5. He would have maturely addressed the situation, revealing ALL THE DETAILS to avoid speculations.