A computer simulation of the bus was unveiled at a tech expo held in China earlier in the month. It is supported by two legs that run along rails laid along the roadside, gliding over gridlock at 60 kilometres per hour.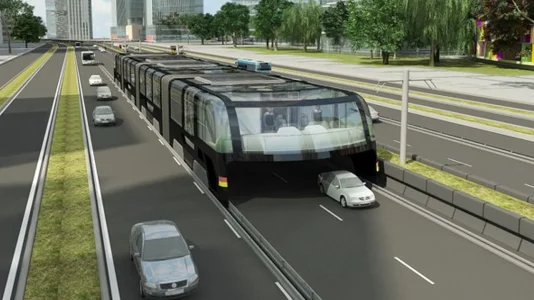 "The biggest advantage is that the bus will save lots of road space," Song Youzhou, chief engineer of the project told Chinese news agency, Xinhua.
Song said the electricity powered bus is equivalent to 40 conventional buses and can carry up to 1, 400 passengers at a go.
That would represent a potential saving of more than 800 tonnes of fuel a year and a reduction in carbon emissions up to 2,480 tonnes.
Air pollution, occasioned by increasing manufacturing activities, is one of the many hot topics in China that ignite of protests.
Beijing, one of China's most polluted cities, announced in January it would close 2,500 small highly polluting firms in 2016, Xinhua reported in February. The city also plans to develop a network of ventilation "corridors" to help disperse smog.
While many Chinese cities have shown interest in having the bus run on their roads, only one is currently being built in the coastal city of Changzhou to test the feasibility of its design.
"Our first test bus is planned to be put on track in north China's Qinhuangdao City at the end of July or in August," Song said.