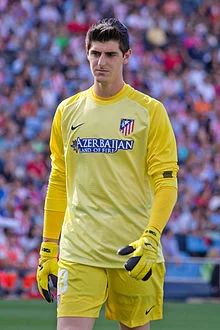 Chelsea manager #JoseMourinho has revealed that goalkeeper #ThibautCourtois will be back at the club next season.
The young Belgian keeper had been loaned out of #Chelsea for the past three seasons,as #PetrCech was the preferred first choice at Stamford Bridge.
But with Courtois having been one of the backbone of #AtleticoMadrid's success in recent seasons,the club has decided to call him back.
It further fuels speculation that Chelsea could be willing to listen to offers for Cech,in order to put their long term faith on Courtois.
Courtois played a huge role in helping Atletico win the La Liga title last season and also getting to the finals of the UEFA Champions League final where the lost to Real Madrid.
Mourinho confirmed that the keeper will be at Stamford Bridge after his campaign at the World Cup with Belgium.
"When the World Cup is over, Courtois will come straight back to Stamford Bridge - end of story," Mourinho said on a charity visit to the Ivory Coast.
Also Mourinho sounded confident that deal for Atletico striker Diego Costa will eventually be done.
"I am extremely confident we are going to get him and he'll end up signing for Chelsea," said Mourinho.
"Costa is a player I want in my team. I've asked the club to bring him in."
Photo Credit: Wikipedia