The dollar weakened against its major peers Tuesday ahead of a Federal Reserve meeting as the shaky global economy weighs on hopes for a summer US rate hike, with a Bank of Japan gathering also in focus.
Dealers are hoping the Federal will provide clues about the state of the world's biggest economy as it wraps up its two-day meeting Wednesday, while first quarter growth figrues are also due for release this week.
On Tuesday, the greenback weakened to 110.98 yen from 111.21 yen on Monday in New York, while maintain rate on the Nigerian currency at 199 at the official and 320 at the parallel market.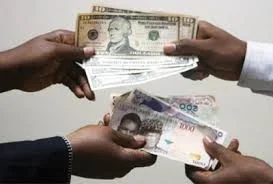 Over the weekend, the currency traded at N316 -N319 being the lowest for over two weeks
The euro edged down to $1.1261 from $1.1266 in US trade, while it dipped to 124.97 yen from 125.30 yen.
Emerging market currencies retreated against the greenback as dealers looked for safer investments, with the Malaysian ringgit falling 0.8 percent and Indonesia's rupiah down 0.2 percent.
The South Korean won, Thai baht and Singapore's dollar also traded lower.
- AFP Contributed to the News