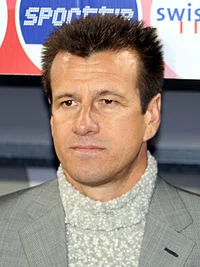 Brazil football federation(CBF) have re-appointed Dunga as their national team coach following the resignation of Luiz Felipe Scolari after the 2014 FIFA World Cup tournament.
Dunga will be having a second stint in charge of the Selecao after he was sacked in 2010 during his first spell.
"I'm glad to have a new opportunity. At the same time it's a new responsibility," the former Brazil skipper said.
"I am immensely happy to be back," he told reporters.
"Brazil always has talents, but talents alone don't win. You need to combine them with commitment, work rate and hard work."
"Brazil will not win just cause we wear the historical yellow jersey. It's our hard work and not our reputation that should win us," the 50-year old said.
Also Dunga confirmed that Alexandre Gallo will be the National Team's coach during the 2016 Olympic games.
Photo Credit: Wikipedia