Super Eagles coach, Sunday Oliseh, has said that he doesn't believe Emmanuel Emenike until he confirms from the striker.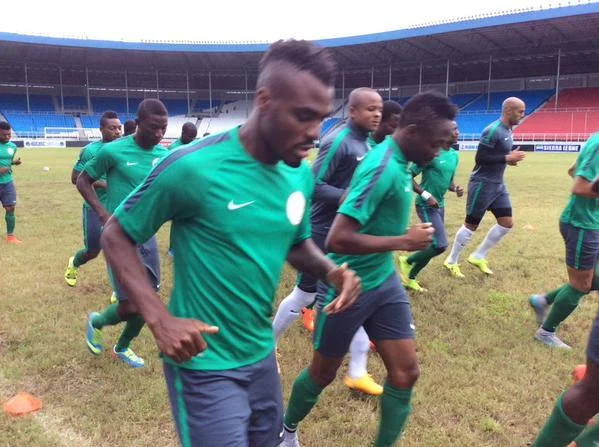 Emenike earlier this week took to social media to announce his retirement from the Nigerian national team, after his 2-years goal drought has began to generate lots of discussion among football enthusiasts.
"It was a big shocker for us and a big shocker for me personally. And personally, I still don't accept that he (Emenike) has retired because, officially, I have not heard anything from him, and I don't think the federation have heard anything from him, only what we've seen is what is pasted on social media," Oliseh stated.
"He has been part of our building process, and in fact, he has had more playing time than any other striker that we've had. So I am very surprised that he has retired.
"If five per cent of what we hear on social media about coach Sunday Oliseh is true, that means I will be giving interviews everyday. At the moment, we have not made a list of anybody we are going to invite for the next World Cup qualifier as we are only focused on getting our country to qualify for CHAN.
"And I am still struggling with my health, so where have I had the time to make a team or drop Emmanuel? That is totally, once again, false," Oliseh reiterated.
Oliseh said he tried reaching Emenike, but there was no response, and that if he truly has retired, then there is nothing anybody can do about it.
"I have called him twice. Immediately I heard it, the first thing was that I needed to get a confirmation which I called him yesterday (Tuesday) and I am still expecting a return call. So when I hear from him, that is when I will accept that he really has retired.
"He is a man. If a man decides to retire there is nothing anybody can do. And if you force him back, it will be counter-productive. So for that reason, like I said, if he has decided to retire, for me, it's a shame because he was part of our build up plan. But like what we have said in the past, the only thing that is imperative for us is Nigeria itself."
Oliseh stressed that he has a very good relationship with all the senior players in the team.
"My rapport with the senior players has been good. What we've had is that we've been very clear, we are treating everybody equally, that is how I work. I don't believe in giving priority to particular players over others, and it has been going on very well, team spirit is very high. I just came back from the Belgium tour which was a huge success for us as regards how we want to play.
For the home Eagles also, the spirit is very high. So it is very good.
"The thing there is that we have so many strikers to look at. We can't base on just one player. And like I have said before, we have a pool of players for each position, we have like five or six players which we can call on to. And Emenike who has been part of the build process has decided to retire, so we will have to sit down and try to find a solution.
And on Burkina Faso coach boasting ahead of the return leg of the CHAN qualifier, Oliseh said: "I congratulate the Burkina Faso coach for being so optimistic. All we know is that we will go and play our game. If he thinks we are not good enough, no problem."