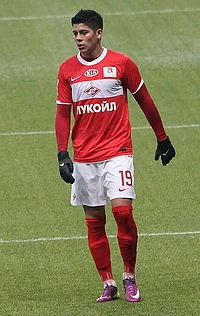 Manchester United manager Louis van Gaal has warned Argentine player Marcos Rojo to watch his temperament if he has to succeed in the English Premier League.
United this week completed a £16m signing of the 24-year old from Portuguese side Sporting Lisbon,with the player penning a five-year deal.
Van Gaal is concerned that the player's past record could come into play, but insists he is the right man to get him into shape.
Last season,Rojo was sent off four times for Sporting and accumulating up to 20 yellow cards in the Primeira Liga campaign,as he is known to being prone to receiving cards.
"First of all he needs a lot of brain, to be aware of spaces, because we are defending spaces, and this is the first words I used to him," he told reporters. "And he has to be very good in the air, because in the Premier League it is always long balls, and also his build-up has to be good, and I like the way he played in the world championship," Van Gaal said.
"He has to be aggressive in the right moment, and when I have to say something about him.... when I have to criticise him, maybe that is it [the right moment], he has to control himself at every moment, maybe he can improve that and maybe I can help him."
The former Netherlands coach still has about a week to shop for specific players to fit into his 3-5-2 formation this summer, and explained why Rojo fits the bill.
"I think Marcos fits the profile as a left central defender but also as a left wing-back, he played for Argentina as a left wing-back but for Sporting as a left centre-back, so I think he shall fit in our profile, he had a fantastic world championship, so I am very pleased," he added.
"I have to drive at this moment on the left, and then I have to pay a lot of attention, to drive properly, it costs me a lot of energy, so this player also, because he comes from abroad, he don't speak any words of English, he has to adapt to a new culture, new philosophy, it's not so easy, it takes time," he continues.
"For Marcos and also for the other players. You have to believe in it, and maybe my CV can convince them. But you have to believe in the philosophy that we can make a big club, but it is not an overnight job."
Last edited by a moderator: