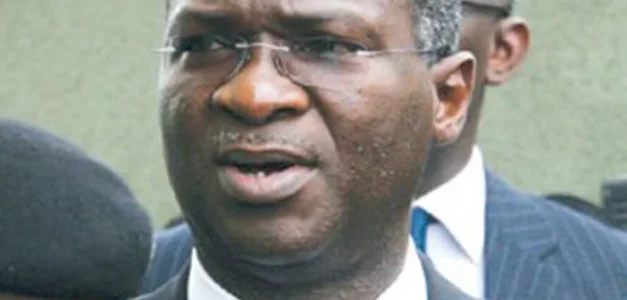 Babatunde Raji Fashola writes on ThisDay:
As the ink is yet to dry on the analysis of the results of the recent Ekiti poll and the landslides that are reminiscent of 1983 under the now-defunct NPN (National Party of Nigeria) now seems like child's play, I feel compelled to comment for many reasons, which I will summarise below:
The Eminent Public Commentators
These are some of our most seasonal, informed and respected columnists, whose back page writings have shaped opinion in the public space on the many Nigerian newspapers.
As I read several of them in the week commencing on Monday the 23rd of June, 2014, they all seemed to be saying, "We got this wrong".
Interestingly, none of them could have called this result a week before without raising eyebrows about their credibility. The word on the street was that the incumbent had served his people well. About this, there was no debate. Whether it would be enough to secure victory was another matter.
If these eminent commentators were willing to stick their necks out one week before the election, I guess the worst prediction perhaps would have been to suggest that it would be a close election.
If a good governor did not win his ward, let alone his local government, none of the deputy governor, three senators, all the House of Assembly members won their local governments, the question that arises in my mind is: Is this logical human behaviour?
Is there an incumbent amongst all those defeated in Nigerian electoral history who lost all their local governments and even their wards?
Logical Human Behaviour?
The arguments for the victorious camp and their supporters, (or the "propaganda") to justify an "unprecedented" electorate behaviour were that: (a) money and inducements were factors that swayed the electorate; (b) the incumbent was elitist and disconnected, he spoke too much English. I did not offer these arguments. It came from them before and after the election.

Money and Inducements
We had heard about this before in Ekiti. It came from the very top, like many orders from above. It was delivered on an electoral podium in Kano. A serving governor was accused of diverting money meant for delegates. It was the unspoken word in Nigerian politics.
But the party of the governor elect has jumped headlong into the place where many feared to tread; perhaps because they don't give a damn.
In the public space on television, members of the party have now broken the taboo, Ekiti was all that mattered.
They paid for it and all of us can do whatever we like; after all, they control the National Treasury, oil proceeds and all that is being forensically audited.
But they have finally helped to show Nigerians, if by default, that there is now an ideological difference between their party and the main opposition. I will address this later.
But, even if money mattered, the incumbent gave out money under a state-funded and well publicized welfare scheme for elderly and vulnerable citizens.
The project had run for three years successfully. The beneficiaries knew that the money came every month, they banked on it, and there is no report that it had been stopped.
Were these people the "elite" that the incumbent served or the grassroots from whom he was accused of being disconnected?
Is it logical human behaviour for ALL of them to have abandoned him and preferred the new but untested money by the party of the governor elect, in such a way that not even in his ward did they show fidelity to that well-conceived policy by voting to retain it?
Elitist and Disconnected
I have asked myself where else could the incumbent be excused for speaking too much English than in the land of professors in Nigeria.
Is it logical human behaviour for a land of many intellectuals to reject so overwhelmingly an incumbent that was a respected family man, a devout Catholic, gentleman and urbane representative, even in his own ward?
The Ideology Now Crystallizes
When the merger of the main opposition party was being consummated, not a few commentators asked what the difference was.
Try as the new party did, the party in power either said there was no ideology or at times that the new party cannot be different from them; because, some of their own members were now major stakeholders in the new opposition party.
In perhaps what is a most welcome Freudian slip, they have shown through Ekiti that there is the major ideological difference on economic issues. We have seen some differences on social issues like pardons and national honours.
But the difference on economic issues is profound.
They have propounded a new definition for infrastructure. They call it the infrastructure of the stomach or "stomachstructure".
By this, they assert that although the incumbent has built schools, hospitals, markets, tourist complexes and other infrastructure that provide a system for organising the economic development and affairs of Ekiti, to create direct and consequential jobs for construction workers, architects, quantity surveyors, school teachers, doctors, and even employees of banks that lend money to finance these projects; the party of the governor elect would rather not do that.
They say, by their own methods, these things do not matter in any gubernatorial tenure.
Do nothing, gather money, buy rice, stop at a few local pubs to show you are ordinary (maybe without shoes) and distribute money and rice to the "grassroots", and you are sure to get to Government House; and this is the plan for the whole of the South-west and the presidency.
This ideology will quieten those who ask why there is no electricity or why we can't find the Chibok girls or indeed why audit reports on $20 billion or $10 billion should not matter.
It should quieten the rich and the poor who now live in fear of insecurity.
Indeed all those who are looking for employment and those who have died in the process should simply tarry a while. The money and rice are on their way.
If you still do not see the ideological difference on economic issues, let me spell it out in other words.
The party of the governor elect appear to agree with the party of the incumbent governor, that the poor matter and that indeed something should be done for them. What they disagree about, is what should be done.
The party of the incumbent governor argues that through new schools, new roads, new hospitals, tourism development and physical infrastructure renewal, the fortunes of Ekiti people will get better economically and developmentally; because, skills will be created and honed, services will be offered, jobs would be delivered on a sustainable basis.
On the contrary, the party of the governor elect argues that a once-in-four-year fix of dash, cash and inducement is what the people prefer. The people of Ekiti seem to have chosen this economic ideology by the "votes" of June 21, 2014. Did they?
This is their prerogative, I cannot question it, but I intend to learn from it, because the Ekiti people are highly respected people who have contributed ideas and values to our national development.
This is why I am curious.
Is the land of honour and intellectuals teaching us something new? I think these are the matters for scholarly research which the incumbent in his most commendable and statesmanly post-election speech (which many have interpreted as an unqualified concession) urged upon us.
He sacrificed, so that perhaps we could all learn about a "new human behaviour" of a great people of honour, valour, integrity and self-pride.
I have been accused of "insulting Ekiti people". There is no reason for me to do so and I did not do so.
I asked questions so that we can learn. This is the realm of the research that the incumbent governor urged. To make an inquiry.
I think the party of the governor elect must not feel uncomfortable about me asking questions. If they exercise the bragging rights that come with the results and the incumbent governor's "concession" they should not feel uncomfortable about research and inquiries that also come with the "concession" speech.
It may well be that the party of the governor elect may be right in their assessment of what the people of Ekiti and by extension Nigerians want, this would make any inquiry appropriate because; it may compel a change of strategy for many political parties.
It should make governance a lot easier if they were right. Do nothing, put money together, share it a few weeks to election, strut to Government House, and why should you bother about agriculture, electricity, housing, security, healthcare and more?
After all, everybody has been paid in advance to go and fix these problems by themselves. They will not matter, we will see them in another four years and rule again for the next 60 years, or indeed for eternity.
Postscript
I intended this as a take-away. It seems to have emerged as a multi-course menu that will take time to digest about the prospects for our national polity and development.
• Fashola (SAN) is the governor of Lagos State