Governor Samuel Ortom of Benue State has accused his estranged Senior Special Assitant on Security, Terwase Akwaza, otherwise known as Ghana as the mastermind of the recent attack on Zaki Biam, which left scores dead.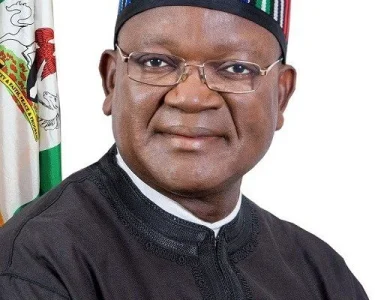 The governor vowed that he would make sure Ghana is arrested and brought to book.
Addressing newsmen yesterday, after visiting victims of last Monday's attack, Ortom said he was pained that the state after recovering from the killings in Agatu has returned to another season of sorrow.
He said, "our suspicion is clear, that this is from Ghana. This heinous act has been perpetrated by Ghana and his group who have constituted themselves into a terror group and have been terrorizing the people.
"This is not the first time they have been killing. He killed Civilian JTF, killed Vigilante Group members, killed traditional rulers, killed his uncles, he has been killing all over the place.
"Just last week about eight people were killed in Ayati in the same Ukum local government area. This time again coming to attack a market, it's a shame.
"I want to take on the Sankera community; I want to invite them to a meeting. The traditional rulers who are the custodians of the land, I will give them an ultimatum to produce him because Ghana is still residing within Gbishe area, specifically in Katsina-Ala local government.
"Security should be the responsibility of all, not just security agencies or government, it should be all of us working together to achieve peace. The police alone are not enough to provide security and at the same time do intelligence gathering and at the same time provide information.
"The people must be willing to assist them. You can imagine the consequences of living with a terrorist like Ghana. We are going to hold a Security Council meeting and we're going to take more decisive action based on professional advice that will be given to us. We know where this is coming from and if decisive action is not taken he will continue to recruit, he's recruiting more. You can see why I refused to arm the youths when I was campaigning and I'm against it."