Delta state's former governor, Chief James Onaneife Ibori, has said that he is not a thief.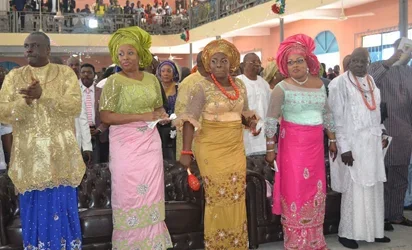 Ibori made this know at the First Baptist Church, Oghara during a thanksgiving service organised in his honour by the Oghara Kingdom.
Ibori said "Today I have decided to speak for myself, I am not a thief, I cannot be a thief. Today is the day they say I should give testimony to God, for those that know me, you know that my entire life is a testimony itself and I have said it over and over again that my life is fashioned by God, directed by God, sealed, acknowledged, blessed by God and I believe that since the day I was born.
"Like the Archbishop said, when this whole commotion started, what was most painful to me was the pain and suffering that my people were going through.
"It has nothing to do with me as a person because for some reasons like I said to you, I drew my strength from God and somehow, I knew that God would stand by me, I knew that one day, and this day would come. I am indeed very please that I can now stand before you and look at your faces, faces that I have missed and those of you that have indeed suffered the pains of my absence. It has nothing to do with me.
"So, when I reflect, it gives me joy that all your prayers, God has answered, all your supports and solidarity with me all through this period; it is indeed not what I can begin to say. Like what our former chief of staff, Francis Agboroh said it is "unquestionable".
If I am to give testimony of my journey you will not leave here. The only testimony that I have is the fact that I am back and alive in your midst. And again I say that I never had any doubt in my mind that I would get back home.