Captain Mathew Ekeinde, husband of popular Nollywood actress, Omotola Jalade claims she was a virgin when he married her.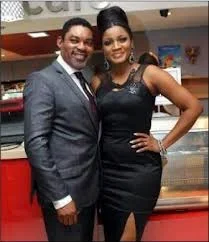 Captain Ekeinde made the disclosure during an interview session; Naij reports.
He said, "I have always believed and still believed it was God's arrangement, I met my wife when she was 16 and married her when she was 18 so I knew her for 2 years but she has always been a lot older than her age in terms of her maturity, her physical structure, and the way she thinks. She is way ahead of her peers in her IQ.
''Of course I am older than her for 10 years and that was never a barrier, it was just something that just happened, I saw her and I fell in love with her and of course because I had always wanted to marry a virgin and she had turned 18 then and she seemed to fit into every item on the list I had written I wanted in a woman, for me the age difference was not an issue, the age of consent in Nigeria is 18, infact that was why I waited for her actually so it just happened, I can't tell you why, nothing really specific but its heaven's arrangement."
He however failed to disclose whether or not he was a virgin when he married his virgin wife.