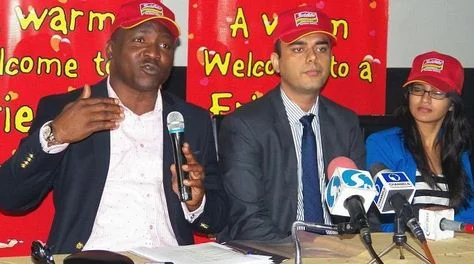 Like any act of kindness, corporate social responsibility works best when it is genuine and impactful. The best corporate social responsibility programs are those that are rooted in the values of the company which lays strong emphasis on affecting lives positively.
With this fact firmly in mind, Dufil is once again placing high priority on outcomes that are qualitative and not easily measurable by celebrating selfless and unique acts of bravery in kids from 15years and below.
This is what Dufil Prima Foods Plc, makers of Nigeria's most preferred noodles brand has continued to do for six consecutive editions and is more determined to further raise the bar in making it even better this year, following the commencement of the search for three new heroic children in the 7th edition of its laudable Corporate Social Responsibility initiative, the Indomie Independence Day Award for Heroes of Nigeria (IIDA).
The announcement for the commencement of the search and call for entries for the prestigious award for deserving Nigerian heroic children was made by the Head of Marketing, Dufil Prima Foods, Manpreet Singh, at the national Press conference held at Silverbird Galleria, Victoria Island, after taking media correspondents through a 15minutes documentary as has always been the tradition, at the cinema.
Speaking at the media conference, to officially flag off the search for heroes of the 7th edition of Indomie Independence Day Award, Singh welcomed all to the conference as he said "for me, it is with great delight that we all are gathered here once again to officially announce the commencement of the search for our inestimable heroes for this year.
According to Singh, "there is no gainsaying that the future of every nation and by extension the world is largely dependent on the youth, many of whom are children. Hence, it is pertinent for a nation that indeed wants to grow make conscious efforts to provide a better future for them as the nation's destiny lies in their hands.
He also noted that since the inception of the IIDA initiative, Dufil has continued to communicate the rationale behind the award which is to identify, recognize and celebrate selfless children who at one point or the other, have put everything aside for the good of others, risking their lives in the process.
"Our motivation rests firmly on the fact that a lot of kids are out there who do the extraordinary day by day, yet are unsung heroes who have never been celebrated, that is why Dufil has resolved that every year we would not relent in our search all around Nigeria for children who have performed unique acts of bravery/ heroism, worthy of celebration".
Also speaking at the press conference, the Public Relations and Events Manager, Dufil Prima Foods, Mr. Tope Ashiwaju stated that the last six editions of the award have been immensely successful, attracting strong commendations from various quarters across the nation. "Spurred by these remarkable successes and the lives we have touched who have continued to be role models to other kids, Dufil is now more than motivated to make this 7th edition which is a unique number, an even more memorable one for all".
According to Ashiwaju, "In reinforcing our brands commitment to corporate social responsibilities, Dufil feels that it is very important to help ensure that kids are set in the right direction very early in their lives; if they are positively influenced with good traditional values at the beginning, then they are bound to become champions or brand ambassadors to the entire world, which would ultimately see us at Dufil Prima Foods, more than fulfilled.
"Indomie Independence Day Award for heroic children of Nigeria has so far recorded huge success in the last six editions producing a total of 18 winners in all who have been rewarded with scholarship prizes ranging from N1,000,000 , N750,000 and 500,000 for the first, second and third winners respectively."