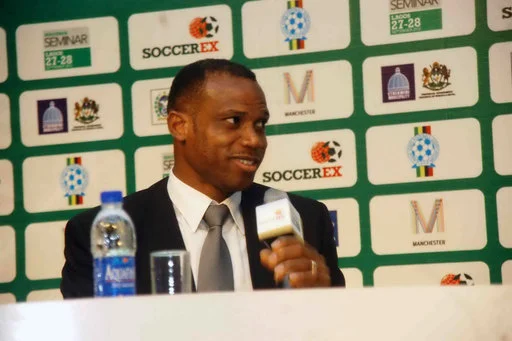 Former national team captain #SundayOliseh has warned the Super Eagles team against underrating their group opponents at the 2014 FIFA World Cup tournament in Brazil.
Nigeria will be playing its first World Cup match against #Iran on Monday,before subsequent games against Bosnia-Herzegovina and then Argentina.
Oliseh who represented Nigeria at two #WorldCup tournaments in 1994 and 1998,advised that Iran and Bosnia might not be as easy as people expect it to be.
"Iran is the team that can give you different formations and different style; one offensive, one waiting back and one taking the fight to the opponent. They are not as bad as people think. Bosnia is the first time they are coming to the world cup, but on paper, they have a solid team," the former Borussia Dortmund player told 365footballnews.com
Oliseh even claimed that the game against #Argentina is going to be easy for the Super Eagles,contrary to the expectations of many.
"The biggest mistake we will make as a nation is to start thinking that the only solid opponent we have is going to be Argentina. In fact Argentina is going to be the easiest game to play because psychologically you have nothing to loose." Oliseh added.