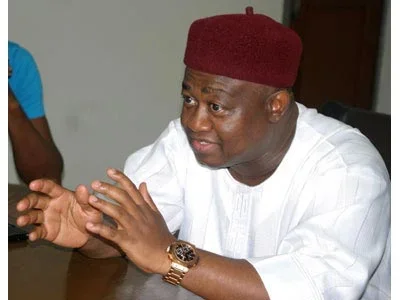 Sam Nda- Isaiah, who until recently resigned his position as the Publisher of #Leadership Newspapers, in an interview with #Vanguard expressed suspicions that the presidency could be using the missing $20bn to fund impeachments of 'erring' governors.
Nda-Isaiah's grouse is hinged on his belief that the perceived incompetence of the administration, is responsible for the current disorderly state of the nation.
"I keep saying that the president has to be careful. This is #Nigeria, and if you know the history very well you will know that you don't just take the people for a ride. If you think that you can do something and say that you are not the one, you will not go free in Nigeria. Many APC governors have been penciled down for impeachment."
"The APC is not like the PDP where Jonathan will decide not to conduct primaries. The APC is the most democratic party in Nigeria today. We know what is happening in the PDP."
"All the governors that decamped from the PDP did that because they knew there was no equity and justice in the PDP. They are here because they know there will be fairness even though the President wants to impeach every body. Maybe the controversial twenty billion dollars was enmarked for the purpose of sponsoring impeachments. They are using corruption to fight alleged corruption."
He also says his decision to run for the presidency on the platform of the All Progressives Congress, APC, was informed by the desire to arrest Nigeria's descent to doom.
"One thing that is clear to me is that no matter what Jonathan does, it is not possible to continue in the state that we are now. We can't continue in this state of disorder, insecurity, corruption and theft beyond 2015.
"Nigerians are going to rescue themselves, the president should not think that he will do all these and continue till 2019. Nigerians will rescue their country." he added.
Read full interview here