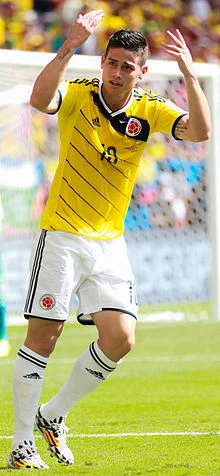 Colombian star James Rodriguez has completed a transfer move to Spanish giants Real Madrid after agreeing a six-year deal.
Rodriguez who had a fantastic World Cup campaign in Brazil scoring six goals,moved to Madrid from Monaco in a reported £63million deal.
He is now the fifth most expensive player in the world,following the hefty sum Madrid paid to acquire his services.
"The player will be presented today, Tuesday 22 July, at 20:00 CET (7pm), in the Santiago Bernabéu's presidential box," A Real Madrid statement read.
"Following that, James Rodríguez will take his first steps on the Santiago Bernabéu's pitch wearing the Real Madrid jersey and will then answer questions from the media outlets in attendance in the press room."
A statement on Monaco's official website read: "The club would like to take the opportunity to thank James for the role he played in getting the club back to the Champions League and wishes him the very best for the future.
"The club had no intention to sell the player, however the time came when the solution of a transfer was considered to be the most beneficial solution for all parties.
"Monaco is proud to be a party to one of the most significant transfers in football history.
"Monaco is a club that will continue to grow and remains focused on the future. More than ever it has the ambition to strengthen the team and continue to progress for next season."
Rodriguez follows World Cup winner Toni Kroos to the Bernabeu,with the German midfielder joining from Bayern Munich last week.
Photo Credit: Wikipedia