Igbo leaders and traders in Lagos have warned the director of the Indigenous People of Biafra (IPOB), Nnamdi Kanu, not to come to Lagos state to stage any of his rallies.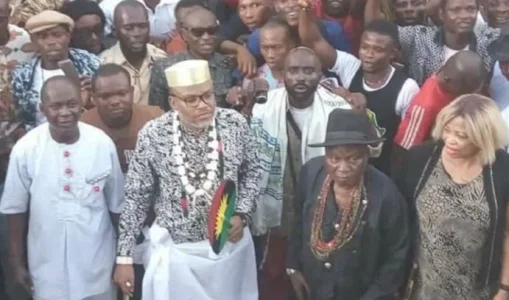 Kanu last month, disclosed his plans to come to Lagos.
Speaking with Sunday Telegraph, Chief Chiemeka Ibeh of Alaba Amalgamated Traders Association, said the IPOB leader should leave Igbos in Lagos alone because his visit will create the impression that Igbos in Lagos are supporting Kanu and IPOB activities.
"He should keep his Biafra in the East where our unemployed youths are following him all over the place, not knowing what they are dabbling into. Most of these youth do not understand what Biafra is about and what it has cost Igbo people. Since his actions led to the quit notice by the Arewa youths, I expected Kanu to have paid upfront all transport companies on the northern route to be conveying Igbo people who might be interested in coming back to the East, but he has not paid a kobo to anybody. Is he bothered about the economic wellbeing of the people whom his actions could dislocate?"
Also speaking, the leader in the Auto Spare Parts & Machinery Dealers Association (ASPAMDA), Chief Alex Ejiofor, asked Nnamdi Kanu to desist from distracting struggling Igbo people from concentrating on finding their daily bread.
"If his father did not tell him my father told me that we were reduced to the biblical 'hewers of wood and drawers of water' in Nigeria at the end of the war in 1970. It is true that we are still suffering from the effects of that war till today, but Igbos in all parts of Nigeria have made a lot of progress and cannot afford to return to that stage where an Igbo who left over a million British Pounds in his account and ran home for safety at the outbreak of the war, was given 20 Pounds in 1970 after the no victor, no vanquished declaration. What is Kanu thinking about that? And if I may ask, what is the volume of Kanu's investment either in the South-East or in other parts of the country? Does he not know that he is putting those investments at risk and endangering the source of livelihood of other people? He should perish the thought of coming to Lagos, and if I may advise, he should change strategy or join forces with Ohanaeze. He has done well by bringing the marginalisation of the South-East to the front burner again, but should sustain the discussion without causing his people harm" he said