A mild drama at the headquarters of the Special Armed Robbery Squad (SARS), Lagos State Police Command, Ikeja, when a suspected armed robber, Fuwad Azeez, arrested by the police, who was said to have prepared protective charms for members of the gang against bullets and knives refused to be used as a guinea pig to test the efficacy of the charms.
Azeez, son of a herbalist, was arrested some days ago by policemen attached to Denton Divisional Police for carrying arms in public. His arrest came after the leader of the gang, Kareem Idris alias Aloma, led his team members successfully robbed Moonshine Hotel, Obalende on April 8, 2016, where they carted away valuables and money from both workers and lodgers.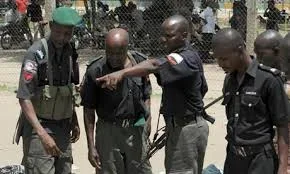 However, the drama played out they asked which member of the gang would like to test the potency of the charm against a gunshot or a machete cut. All seven of them, including Fuwad, who prepared the charm vehemently refused to be a guinea pig for the purpose of testing the efficacy of the charm.
Kareem also said they had been stealing items like phones, laptops and other valuables for a long time, which they later sold.
Source: Sun Newspaper