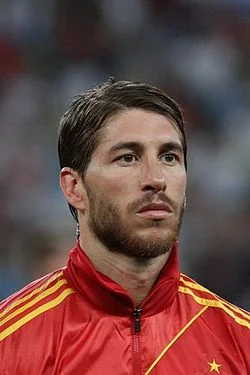 Only losers makes excuse for not winning claims Spanish centre-half defender, Sergio Ramos, after their 5-1 white-wash in the hands of the vengeful Netherlands as Spain opened the defence of their World title.
In a match where Ramos played in the centre of the Spanish defence, Arjen Robben and Robin van Persie scored braces to come from behind a Xabi Alonzo-penalty in the first 45 minutes on Friday.
Ramos, speaking yesterday accepted the blame and promises a bounce-back against opponents in their quest to defend the title they won four years ago under similar circumstances.
"Excuses are for losers. Spain has a winning mentality and we will not live in the past.
"The dressing room is more united than ever. The success of this group is to get up in difficult times.
"Much is expected of us, we have the hope and optimism of our people and our country but they have not yet sent us home.
"We accept the criticism, but I am convinced that Spain has full confidence in the team."
The Real Madrid UEFA-winning player added coach Del Bosgue is prepared to make winning changes.
"It was not a dream start. We are hurt but we are full of hope, motivation and hunger to play.
"There is no time for regrets. We have to go until the death, as one, which has been the key to our success in (recent) years.
"The coach is more knowledgeable to make changes if he sees fit. He is best placed to decide."
Photo Credit: Wikipedia
Last edited: