Mali security forces, aided by U.S. and French special forces, ended a daylong siege Friday of Radisson Blu hotel after alleged Islamic extremists seized as many as 170 hostages.
Mali's Security Minister Salif Traore has told a news conference that gunmen were no longer holding any hostages, the BBC reports. Al Jazeera said two gunmen were involved in the takeover and that both were shot and killed by security forces, while NDTV reported 18 persons.
There were conflicting reports on the number of casualties from the attack. Traore earlier said three people were killed, but the AFP news agency, quoting local TV, said as many as 18 people died.
Traore, said special forces had gone "floor by floor" to free the hostages, many of whom were barricaded in their rooms.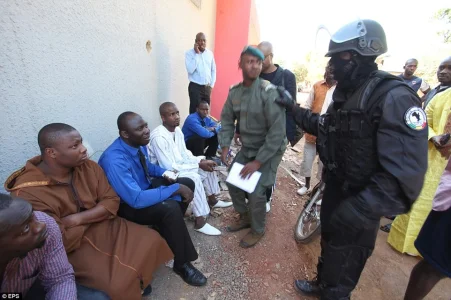 Al-Mourabitoun, an al-Qaeda-linked group based in northern Mali, posted a message on Twitter saying it was behind the attack on the Radisson Blu hotel, where hostages are still being held, according to Reuters. The claim could not immediately be verified.
U.S. special forces troops were assisting Malian forces in hostage rescue efforts, said Col. Mark Cheadle of the U.S. Army's Africa Command. A U.S. military official says at least six Americans have been evacuated from the hotel
Mali's President Ibrahim Boubacar Keita cut short a trip to Chad where he was attending a meeting of G5 Sahel.
The U.S. Embassy in Mali had advised people to remain inside or "shelter in place."
One of the hostages who was rescued, noted Guinean singer Sékouba 'Bambino' Diabate, tell Reuters he overheard two of the assailants speaking in English as they searched the room next to his.
"We heard shots coming from the reception area. I didn't dare go out of my room because it felt like this wasn't just simple pistols — these were shots from military weapons," Diabate tells Reuters by phone.
- NDTV