Senator Dino Melaye today called fellow Senator Ali Ndume a boko haram suspect after the later raised a motion for the investigation of his certificate scandal.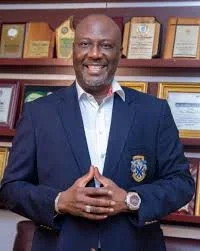 Senator Ndume while addressing the Senate during plenaries today said he had a number of issues to speak on. He said, "One has to do with the distinguished Senator Bukola Saraki, the Senate President, and it was reported in a paper; I have it here. With your permission, I will want to, after making presentation, lay it down. It says that, 'Senate on Vengeance After Nigeria Customs seized Senator Saraki's bullet-proof Range Rover Over Fake Documents.'
"My colleagues that are following events, particularly online, have seen, heard or read the train of abuses on this Senate and the misconception of the fact that we invited the Customs CG based on a very unpopular policy that affects the people we represent. But now, we are faced with this and the (Senate) President has been found in this National Assembly.
"During the 4th Assembly, Salisu Buhari was accused of certificate forgery; he was investigated and determined. After that, in the 5th Assembly, Bello Masari was accused of certificate forgery (secondary school); it was investigated and was cleared. In the 6th Senate, Dimeji Bankole was accused of not having NYSC certificate; it was investigated and he had to show his NYSC certificate.
"Now, that brings me to the second matter. In the National Assembly, here in the Senate of the 4th Assembly, Enwerem was accused and it was also investigated. Wabara was accused of collecting bribe and it was investigated and determined. So, a lot of precedences have been set. Now, the second matter of privilege affects my colleague, Sheikh Dino Melaye, and it is in the Punch of today (Tuesday) on Page 10; I have the newspaper. In Punch, it says, 'Dino Melaye in first-degree certificate scandal.'"
Responding to Senator Ndume's claim, Melaye said, "I am here to respond to the issue raised by the Boko Haram suspect (and) senator of the Federal Republic of Nigeria, Senator Ali Ndume. I want to say, to me, it is a welcome development. Democracy is about investigation and no senator is above investigation. To me, it is a welcome development and it will finally clear the air on all the malicious and vindictive allegations.
"To say that I did not graduate from ABU is to say that I am not a senator of the Federal Republic of Nigeria. ABU is a very prestigious university in this country and it is not possible for one to be running a master's programme in the university when one did not graduate from a university. I have successfully completed one and I am doing the second one.