Manchester United coach, Jose Mourinho, has admitted that they might have to gone through the Europa League, to qualify for next season's Champions League, with their chances of finishing in the Premier League top four looking slim.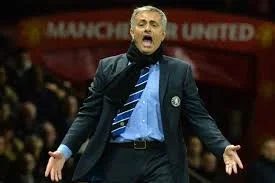 United travel to FC Rostov on Thursday, in the first leg of their last-16 tie and are sixth in the league, three points adrift of fourth-placed Liverpool.
Mourinho's men have a tough run-in, that includes trips to Arsenal, Tottenham and Manchester City among their 12 remaining league fixtures.
It has now changed the Portuguese priority to take the Europa League seriously.
"The Europa League is very difficult, but it's a target for us," Mourinho said.
"If we beat Rostov and we find ourselves in the quarter-final, then we have to think really seriously about the Europa League.
"In this moment we're still in the last 16. In the last 16 we're still far away, but when a team gets into the last eight and you go to the quarter-final draw, you smell the final.
"In the quarter-final, you smell the final and then in a certain period of the season I have to analyse my team, the players and the conditions of everyone. If I have to make choices, I have to make choices, but choices that I would always share with my owners and with my board, but it's not for now.
"For now it's just to play, play against Rostov, play against Chelsea, play against Rostov again and then let's see how we are in all the competitions, and try to make the right decisions.
"To finish second is better than to finish third, to finish third is better than fourth and fourth is obviously better than not being in the top four and not going to the Champions League.
"The second position is very difficult, but it's very possible. First is impossible. Second is possible and we have to fight for it."