Ghana's main opposition leader Nana Akufo-Addo has won the 2016 presidential election.
Akufo-Addo defeated President John Mahama by 53.8 percent to 44.4 percent.
Here are 10 things you should know about him:
1. Nana Addo Dankwa Akufo-Addo was born and raised in Ga-Maami (Accra Central) and in the Nima area of Accra.
2. Three of the 'Big Six' – the founding fathers of Ghana – were his relatives: J.B. Danquah (grand uncle), William Ofori-Atta (uncle) and Edward Akufo-Addo (the third Chief Justice of Ghana and later ceremonial President of the Republic from 1969 to 1972), (his father).
3. Akufo-Addo received his primary education first at the Government Boys School, Adabraka, and later at the Rowe Road School (now Kimbu), both in Accra Central. He went to England to study for his O-Level and A-Level examinations at Lancing College, Sussex.
4. Akufo-Addo stayed in France for five years as a lawyer at the now-defunct New York-based international law firm, Coudert Brothers.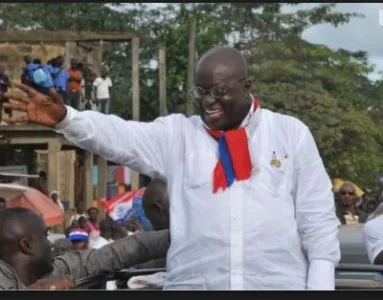 5. In 1975, he returned home to Accra to continue with his legal career. He joined the chambers of U.V. Campbell from 1975 to 1979, and in 1979 co-founded the law firm Akufo-Addo, Prempeh & Co., which has become one of the prominent law firms in Ghana.
6. Like the "Doyen of Gold Coast politics", J. B. Danquah, and others before him, Akufo-Addo used his law practice to champion the cause of human rights, rule of law, justice, freedom, and democracy. He was well known for giving free legal assistance to the poor and fought for the rights and liberties of the Ghanaian people.
7. In his early thirties, Akufo-Addo was the General Secretary of the broad-based People's Movement for Freedom and Justice (PMFJ), which was composed of political stalwarts such as Akwasi Amankwa Afrifa, William Ofori-Atta, Komla Agbeli Gbedemah, Albert Adu Boahen, Sam Okudzeto, Obed Asamoah, Godfrey Agama, K. S. P. Jantuah, Jones Ofori-Atta, Johnny Hanson and Nii Amaah Amartefio
8. In 1991, Akufo-Addo was the chairman of the Organising Committee of the Danquah-Busia Memorial Club, a club dedicated to the preservation of the memory and ideals of the two great advocates of Ghanaian democracy, J. B. Danquah and K.A. Busia, Prime Minister of the Progress Party government of the 2nd Republic of Ghana.
9. In 1992, he was the first national organiser of the NPP and, later that year, campaign manager of the party's first presidential candidate, Prof. Albert Adu Boahen, the man of courage who broke the "culture of silence" in Ghana.
10. In 1995, he led the famous "Kume Preko" demonstrations of the Alliance For Change (AFC), a broad-based political pressure group, which mobilised millions of people onto the streets of Ghana to protest the harsh economic conditions of the Rawlings era.