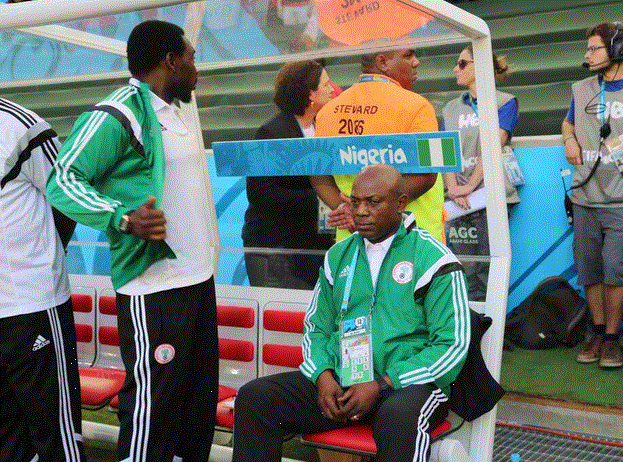 The Nigeria Football Federation(NFF) is at the verge of reaching a new deal with Stephen Keshi to continue as Super Eagles coach.
After a meeting on Wednesday,the technical committee of the NFF revealed that have been put in place to offer Keshi a new contract.
Keshi's position as the Super Eagles handler has been subject to intense speculation,when he announced that he was leaving his post following the non renewal of his contract after the 2014 World Cup tournament.
However,after the turn of events at the NFF which led to the impeachment of Aminu Maigari,the acting president,Mike Okeke Umeh last week mandated the NFF technical committee to: : "open channels of communication with Mr. Stephen Keshi with a view to extending his contract, as the NFF is still interested in working with him."
"We want to work with Keshi for continuity," said Paul Bassey,the spokesperson of the technical committee.
"We don't have time. We have a match (AFCON2015 qualifiers) in September, if we are not able to pay more or add to the salary, we should make sure the money is there. We have to rectify past mistakes. We don't want to owe, and not be in a hurry.
"Keshi has the first right of refusal it is not easy to start looking for a coach now. If Keshi continues, it will be fine" he noted.
Initially,while tabling his grievances on why he wanted to leave his job as Nigeria's coach,Keshi said that he wanted improved working terms,requesting to be paid a monthly N10million.
But it has emerged that the NFF have now agreed to upgrade Keshi's salary to N7million,an increase from the N5million he was earning before.
"Stephen Keshi is willing to come back if his terms are right,"Bassey confirmed.
"We read in the paper that he wants 10 million naira and also that he wants Sylvanus Okpala to come back to the coaching crew. "His contract has expired. We need to renew his contract and we really don't mind that but let us see his terms first."
Last Saturday,it became apparent that Keshi would remain as coach of the Super Eagles when South Africa,believed to be Keshi's next destination,rather opted to appoint a local coach,Ephraim 'Shakes' Mashaba.