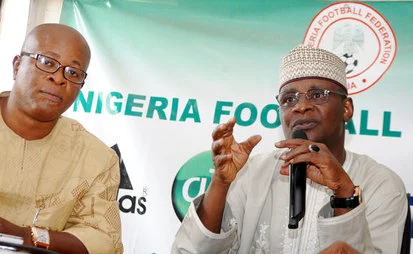 Upon his comeback as the president of the Nigeria Football Federation(NFF) Aminu Maigari has called on all warring parties to sheathe their swords and come together to move Nigerian football forward.
Maigari was last month impeached by the executives of the NFF after a vote of no confidence was passed on him,however world football governing body,FIFA intervened and said the process that ousted him out of power was flawed.
FIFA in a letter addressed to the football federation said that the impeachment process that sacked Maigari was not done according to their statutes,and they mandated that he be brought back to power and also be allowed to preside over the upcoming elections next week.
"There is no victor and no vanquished," Maigari told reporters in Abuja on Monday.
"We must all come together in the interest of the Nigeria game. We are all adults and we must have differences, but I am happy that those differences are now in the past and we are now of the same accord."
Maigari was not cleared by the electoral committee to contest next week's election after he failed to submit his form,with only vice-president Mike Umeh and Chris Giwa,the only candidates to have been cleared .