A former Minister of State for Education, Olorogun Kenneth Gbagi, has insisted that oil well in the Niger Delta will not dry up in the next 100 years.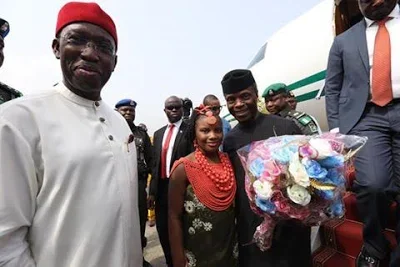 He made the remark in response to Osinbajo's call for diversification of the nation's economy because the value of oil would drop in the next 20 to 30 years.
In his reaction, the former Minister described Osinbajo's comment as political without foundation, stressing that those in government must seek information where they do not have such.
Addressing reporters in Abuja, Gbagi also frowned at Osinbajo's visit to Olu of Warrior, His Majesty, Ogiame Ikenwoli and not going to Urhobo land.
He claimed that the federal government took the people of Urhobo for granted for not visiting the area which was the hob of gas production.
According to Gbagi, "While we are looking for peace, the sensibility of Urhobo people should not be taken for granted, the Urhobo people have been taken for granted for too long in the scheme of things.
"Quoting the Vice President, at least 97% of the economy today is rested on oil and gas his claim that oil will soon finish or dry up is a political statement without foundation, the gas situated on Otolobo at least will last for another 100 years, tax payers' money earners like the Vice President and persons in government must seek information where they don't have them and stop heating the polity.
"The visit of the Vice President is meaningless, made no statement; it is akin to a personal visit to the Olu of Warri as there is no policy statement from the government addressing the issues at hand."