The Ekiti State Governor, Ayodele Fayose, has accused the Federal Government and its law enforcement agencies of contributing to the problem of prison congestion in the country through what he described as "executive rascality."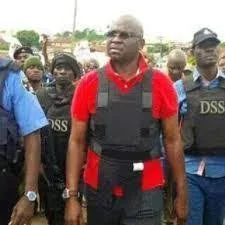 He, however, called on the office of the National Security Adviser to critically appraise the nefarious activities of the security and law enforcement agencies, saying apart from constituting an infraction on the fundamental rights of citizens guaranteed under the constitution, they also contribute to the perennial problem of prison congestion in the country.
Fayose's position was contained in his response to a letter by the NSA, Maj. Gen. B.M. Mungonu (retd.), to state governors with reference number NSA/601/A and dated January 16, 2017 on the need to facilitate quick decongestion of Nigerian prisons.
The NSA was said to have attributed the problem bedevilling the administration of justice in Nigeria to congestion of prisons by awaiting trial suspects and condemned convicts.
But Fayose, in his reply personally signed by him and obtained by journalists on Wednesday in Abuja, said that agencies of the Federal Government, including the police, the Department of State Services and the Economic and Financial Crimes Commission arrest and detain innocent citizens and perceived opponents of the state for flimsy reasons and on malicious, spurious and unfounded allegations.
According to him, many Nigerians have been languishing in prisons without any reprieve because of alleged trumped-up charges of heinous offences preferred against them by these agencies of state.
He said, "Specifically, the controversial arrests and continued detention of Messers Nnamdi Kanu, Col. Sambo Dasuki (retd.) and Ibrahim El-Zakzaky, among several others, and the flagrant disregard and disobedience to court orders directing their release from prison by security and law enforcement agencies are not only unjust, immoral and detestable but constitute an affront to the rule of law and a rape of democracy.
"Your inaction or failure to address the above-mentioned acts of executive rascality and lawlessness will definitely undermine and belie your sincere concern and genuine commitment to the decongestion of the prisons as stated in your letter."