The Nigerian military on Saturday killed 100 people suspected to be militants during an aerial bombardment of Fatola, the base of militants and pipeline vandals in the Arepo area of Ogun State.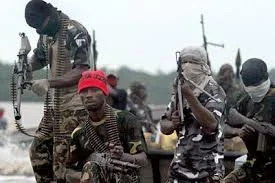 PUNCH reports that the attack started at about 12pm and lasted for about 30 minutes. A resident who was on the road when the shots were fired said the Saturday attack was more intense than previous air raids.
Speaking on condition of anonymity, she said, "The air raid started on Thursday evening. It was just a missile that was released, but the effect was serious. On Friday evening, another airplane which flew across the creek released gunfire which lasted for some minutes. I could hear the shots as if they were fired close at me. But the Thursday and Friday attacks were child's play compared with that of today (Saturday). The aircraft releasing the missiles had three short wings with a sharp mouth. It maintained a visible presence in the sky and anytime it wanted to fire, it flew down as if it was about to crash. I never knew the military had such a weapon."
The acting Director of Defence Information, Brig-General Rabe Abubakar, confirmed the air strikes.
He said, "The joint operation will continue until the area is secure and free from all forms of unwanted and criminal gangs whether they are militants or vandals."