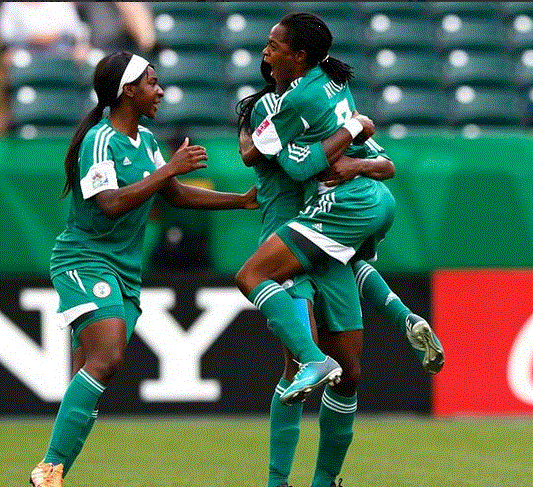 Nigeria will be facing Germany for the honours of being crowned champions of the FIFA under 20-Women's World Cup hosted by Canada.
Not much was known about this team prior to when they left for this competition some weeks back,but they have inspired belief and aroused the attention of the millions of fans who now expect them to win it.
Having played five games,the Falconets have won their last four games and drawn only the first one against Korea Republic.
They improved with each game and have given fans back in Nigeria a reason to stay up late and watch them play.
Coach Peter Dedevbo has set up his girls to start brightly,aiming to neutralize their opponents with early goals.
And they have done so with great success,twice they have scored in the first minute of their matches,gradually mastering the act.
If there is a name that rings out consistently in the ears of the fans,then it is that of Asisat Oshoala whose goalscoring heroics has seen her net seven times in five games.
But they will be coming up against an efficient Germany team,who have been consistent in their run-in to getting to the final.
Even the trepidation is enhanced by the fact that Nigeria's first ever appearance in the final of this competition,incidentally was against Germany whom they lost 2-0 to.
You can say that the Nigerian girls were defeated then in 2010 owing to the fact they played against the home team,who had the backing of the whole stadium that day.
However it is a neutral ground now,going to be played in Montreal,Canada,so it is a level playing ground so to say.
And going by the way that France rattled Germany in the semis,the Nigerian girls would think that they have a real chance this time around.
President Goodluck Jonathan on Saturday spoke to the players and charged them to beat Germany and win the trophy,such is the high expectation and the popularity the girls are garnering.
In a period that the Nigeria Football Federation(NFF) have been moving in an out of crisis,somehow the Falconets are trying to showcase some positivity in an image that has been tarnished badly.
It is the expectation of millions of Nigerian football fans to see their team win the tournament,which will be a first for an African team if they pull it off.
From the cities of Lagos,all the way to Abuja and down to places like Port Harcourt,all over Nigeria,fans would be glued to their televisions late on Sunday night to watch the Falconets irrespective of the fact that the next day is a work day(Monday)