Members of the Oodua Peoples Congress (OPC) have dragged the factional national coordinator of the organisation, Otunba Gani Adams, to the Economic and Financial Crimes Commission (EFCC) for allegedly diverting $22m.
The aggrieved members made these claims of financial fraud in a three-page petition, dated March 4 and signed by 26 members of the National Coordinating Council of the group and reportedly received at the anti graft Lagos state on March 11..
They alleged that one of the purported offences of Adams was diversion of $22 million, which he allegedly received on behalf of the group from the late Libyan leader, Muamar Ghadaffi.
The petition reads in part: "
Besides funds stolen or misappropriated by Adams, there is also the case of about six million members (using Adams estimate of OPC membership strength during his pro-Jonathan campaigns) who are obligated to obtain the group's identification cards at N2,500 each
".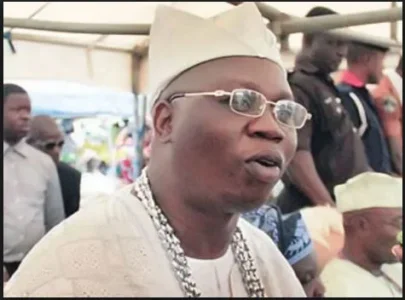 "Adams equally diverted N150 million specially set aside by the NCC and meant for building a hotel for the OPC in each South- West state capital. This is besides the N100 million or more, also made by encouraging unwary members to buy shares in the hotel project. The hotel scheme was conceived in 2007 but has failed to see the light of the day".
Reacting through his Personal Assistant, Prince Olalekan Segun Akanni, the OPC boss stated that if the petitioners had their facts, they would meet at the EFCC.
He said those behind the petition are expelled members of the group who are seeking relevance by saying the same things for a long time without anything to show for it.
REAd More:
NationalMirror