The Peoples Democratic Party, PDP has issued a statement on the release of 82 Chibok girls by Boko haram terrorists.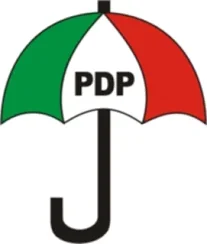 According to an official statement by Prince Dayo Adeyeye, spokesperson for the Ahmed Makarfi faction of the PDP, the release is a welcome development.
The statement read, "According to reports, the girls were released in exchange for the release of suspected Boko Haram terrorists. If that is the Case, we say it's a heavy price to pay and an unusual one at that."
"While we welcome the release of the girls, we do not think that exchanging innocent girls for hardened criminals like the terrorists is the right approach for the following reasons:
1). The suspected terrorists by this release have escaped justice; and all the effort made by security agencies to bring them to book has come to nothing.
2). The release of the terrorists is a setback for the War on insurgency. Their release is tantamount to releasing them to resume their war against society. Many of them could find their ways back to the terrorists camps from where they could unleash terror against the Country. Others who are allowed to roam freely in society could become veritable recruiting agents and purveyors of suic*de bombing and urban terrorism.
3). The Boko Haram terrorists are emboldened to continue with their tactics of kidnapping innocent people with the belief that they can always use it to blackmail the Government to release their members and to extract other concessions.
4). The piece meal release of the girls means the terrorists want to extract more concessions from the Government which in the end can only prolong the insurgency.
5). The release of the girls will increase the agony and high expectancy of the remaining girls still in custody of the terrorists and their families who will be wondering why they have not been so lucky. It therefore would have been better to ensure the release of all the girls at once.
6). The negotiations are in clear violation and indeed a direct assault on the generally accepted international principle never to negotiate with terrorists. This international principle is sound and logical because negotiation with the terrorists only fuels their urge to continue with their heinous crimes.
7). However, we recognize the concern of President Buhari to ensure the earliest release of the Chibok girls for domestic and international considerations. Equally, we are very concerned about the safe return of the girls to their families at the earliest possible time. But we disagree that negotiating with the terrorists is the right approach to achieving the objective.
8). Meanwhile, we rejoice with the girls and their families and hope that their remaining colleagues will join them in freedom in no distant future."
"Long live PDP! Long live Nigeria!!"