Two relatives were nabbed involving themselves in homosexual acts at Agbor Alidinma in Ika South Local Government area of Delta state, yesterday, December 23, 2015.
According to report, a man identified as Mr. Monday Ehikwe was caught "servicing" his nephew, Godwin Chukwueku Okwuoseh. The duo were caught right in the act in one of the buildings in the area.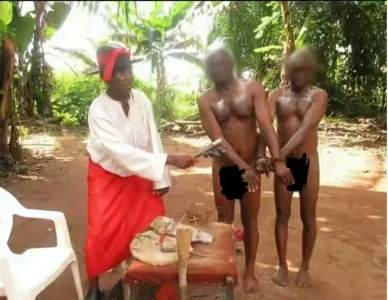 The accused who were caught by the vigilante group attached to the community were handed over to the Okpala, the spiritual head of Agbor-Alidinma and his council of chiefs who subsequently handed them over to the Chief Priest of a shrine , for spiritual cleaning and administration of first step traditional oath on them.
They were further instructed to pay a fine of N25,000 each and to return to the shrine on January, 2016, with one native cow for final traditional bath as well as to come along with 36 native chalks, 50 cola nuts, two red cloths each and 20 tuber of yams.
Source