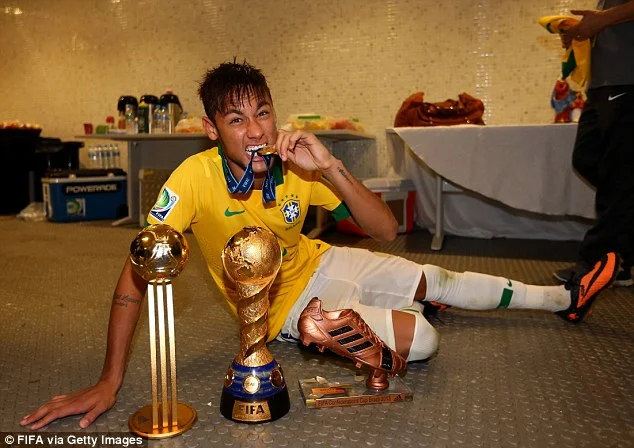 What the whole world has been waiting for: the 2014 FIFA World Cup tournament commenced with much fanfare and for the next one month the world will be given a good treat of the finest of football on offer.
In the city of Sao Paulo,the host country Brazil opened the proceedings with a 3-1 victory in the first game of the tournament against Croatia.
Brazil will have their golden boy Neymar to thank for his heroics in helping them avoid a shock loss to the Croats.
The opening game did not go on without the expected distraction on protests from locals who have been demonstrating the huge bills infused in staging the World Cup.
A lot of expectation was anticipated about a spectacular opening ceremony,but most people will have their misgivings about the event.
There were performances from Pop star Jennifer Lopez,who was among the A-list artistes on hand to declare open the 2014 World Cup tournament,an event which is estimated to have gulped about $9million.
On the pitch,it wasn't the kind of start Brazil would have wished for when Real Madrid left back,Marcelo diverted the ball into his own net for the opener.
Sensing danger,Brazil launched a plethora of attacks on Croatia who repelled off the onslaught.
Croatia's goalkeeper Stipe Pletikosa making his 112th appearance,made a quick-fire saves,particularly one that he made on Neymar to tip the ball out.
However the pressure paid off for Brazil,and a persistent pressing from Oscar resulted in Neymar racing and having a crack at goal to send the yellow army cheering them in ecstasy when he beat Pletikosa from range to level at 1-1.
The Croatians held their own and limited the chances coming from the home team but they conceded a controversial penalty in the second half,with the Japanese referee pointing to the spot after Dejan Lovren tugged Fred a bit in the box.
Neymar took his time before taking the kick and almost missed it with the keeper getting a hand to the ball but not enough power to stop it from going in.
Croatia will feel hard done by scoring a goal late on,however the referee called for a foul on Julio Cesar after Ivica Olic's was adjudged to have impeded him.
Niko Kovac's men pressed for the equaliser,but couldn't find a breakthrough and the game was put to bed when Oscar's effort found the net in extra time to end the game at 3-1.
Considered by many as the favourites to win the competition,Brazil was given a scare by Croatia that they will now not approach their next game against Mexico with kids gloves if they are to get close to their ambitions.