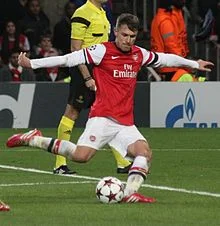 Arsenal captain Mikel Arteta has tipped Aaron Ramasey to go and replicate the successes Cesc Fabregas had when he was at the club.
Fabregas was something of a cult hero at Arsenal,before he departed for Barcelona and eventually back at the Premiership with Chelsea.
Ramsey has proven how vital he is for the Gunners,helping out with the goalscoring burdens and also with his midfield duties.
The Welsh midfielder scored the winner in Arsenal's 2-1 victory over Crystal Palace on Saturday which secured all three points for Arsene Wenger's team.
And Arteta has said that Ramsey reminds him of Fabregas when he was at Arsenal,with the contributions that he has been making.
"We don't really have a 30 or 40-goal scorer at the moment, so to have players who can score goals from the middle of the park is very important," says Arteta.
"He reminds me a little bit of Fabregas when he was here. At his best, Cesc was coming off the front, making the final ball and scoring very important goals."
Photo Credit: Wikipedia