Rich countries are convening in Norway this week to discuss the Nigeria food crisis, few days after world's first famine in six years was declared in South Sudan, Somalia and Yemen.
The United Nations Children's Fund has said that about 1.4 million children are at "imminent risk" of dying
from severe acute malnutrition this year as famine looms across Nigeria, Somalia, South Sudan and Yemen.
The agenda in Oslo meeting will be the failure of wealthy states to react more quickly to an international humanitarian appeal for more than 5 million people facing severe food shortages. Sensitive issues surrounding the Nigerian government's ongoing offensive against Boko Haram militants in the stricken region are also likely to be discussed at the Oslo conference.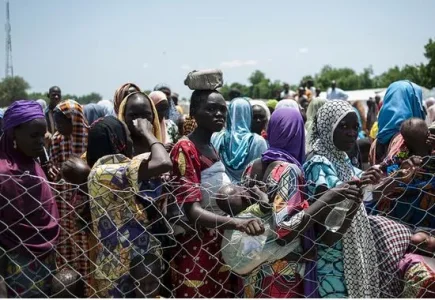 Related: UNICEF Places Nigeria on 'Death Alert,' Declares Famine in Somalia
Those working on the frontline of the crisis are hoping the event – hosted by the Norwegian, Nigerian and German governments and the UN – will bolster relief efforts. While this year's global humanitarian appeal for Nigeria – at present 1.8% funded – is at an early stage, last year's appeal is only a little more than 50% funded. The UN and humanitarian agencies say more than $1bn is needed.
"It's a crisis that people have talked about but frankly the level of resource commitment has been nowhere near what it should have been and the situation on the ground is even getting worse," warned Manuel Fontaine, Unicef's regional director for the west and central Africa Region.
"We are talking about 120,000 people at risk of famine some time in the year in northern Nigeria and we don't think that the resources, globally, have been provided for this crisis. This is what we hope to change in Oslo."
- Guardian UK