Residents of Ibukun Oluwa community, in the Oworonsoki area of Lagos State have been under continuous attacks by robbers, who invaded at least six streets and injured no fewer than 15 residents. The robbers who came in large number, carted away money, laptops, handsets and other valuables.
It was learnt that Oduduwa, Abiola and Ogunyemi streets were raided on September 21; Idera was robbed on October 7 and 14; Ogunnoiki was invaded on October 14; and Adesheke was robbed on October 4 and 19.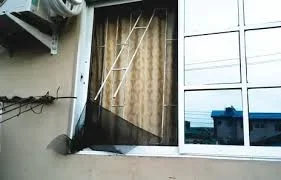 A resident of Abiola Street, Mrs. Ogunsola Adebimpe, said the robbers entered their street at about 1am, adding that the men were in their multitudes. They came around 1am, pounced on the security man and dealt him fatal blows before leaving him for dead.
"They then started entering from one house to another. They broke down the door of our house and went into rooms," she said.
A woman, who spoke on condition of anonymity, explained that the robbers entered her room and attacked her and her son with cutlasses.
"I was half naked when they came in. When I told them that I had nothing to give them, they cut my leg with a cutlass.
"Then they took my child and said they would kill him if I didn't give them something. I quickly handed over my brand new phone to them," she added.
A resident, Titilayo Ogunsakin, said the robbers spent about two hours on the street, before the police arrived.
"Those boys will be between the ages of 18 and 20. It was 15 minutes after they left that the police arrived and they could not arrest anybody," she added.