The Supreme Court on Thursday ordered stay of proceedings of the trial of Senate President Bukola Saraki before the Code of Conduct Tribunal on 13 counts of false assets declaration.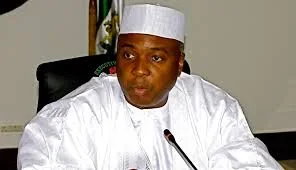 The order of Justice John Fabiyi-led five-man panel of the apex court followed a concession given by the Federal Government's counsel, Mr. Rotimi Jacobs (SAN), for the proceedings of the tribunal to be halted if Saraki's main appeal would be given an accelerated hearing.
The decision on Thursday came after Saraki's lead counsel, Mr. Joseph Daudu (SAN), had argued his client's motion for stay of the CCT's proceedings, and while Jacobs was responding.
In a unanimous decision read by Justice Fabiyi, the apex court ordered the tribunal "to tarry awhile."
Source:
PUNCH