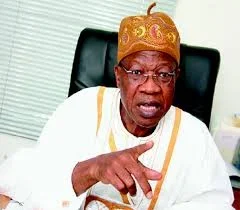 The All Progressives Congress (APC) in a statement issued in #Kaduna on Tuesday by its National Publicity Secretary, Alhaji Lai Mohammed, has congratulated the Muslim faithful on the occasion of this year's Eid-El-Fitr celebrations marking the successful conclusion of the month-long period of fasting.
"That we are able to celebrate this year's Eid-El-Fitr at all is a sign that the Almighty has accepted our supplication and shown mercy on us and our nation. By averting what could have plunged our nation into deep turmoil, the Almighty has shown us that our fasting and prayers were not in vain.
"How could we have been celebrating if former Head of State Gen. Muhammadu Buhari or the renown Cleric Sheikh Dahiru Bauchi had been felled by the agents of darkness who targeted their convoys in Kaduna last week?" Indeed, God loves #Nigeria and the least we can do is to love ourselves too," it said.
The party said those who are busy beating the drums of war or trivializing the attacks on Buhari, saying it was planned as an image-laundering feat by his party, should have a rethink and show deep introspection.
"It is unconscionable that any right-thinking person will seek to make a political gain from an event that must have been deeply traumatizing for those who escaped by the whiskers, not to talk of the deep and life-long pain it inflicted on those who were injured or the irreparable loss it inflicted on the families of those who died.
"Such careless, asinine and irresponsible statements are more dangerous than the attacks themselves, because they are capable of inciting people, causing hatred and fanning the embers of violence. It is a shame the leaders of those who have engaged in this dangerous game have not called them to order. That's why our party insists on an international probe to unravel the perpetrator and motive of the attacks," it said.
#APC also urged all Nigerians to embrace good neighbourliness and shun hatred and careless statements that are capable of inciting chaos.