Ahungwa Isaac Sekav, a former NYSC member, who claimed he rode on bicycle from Ibadan to Makurdi has explained what he experienced in the cause of his acclaimed journey.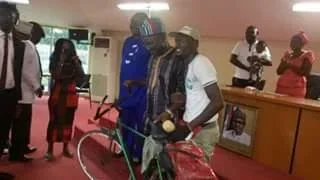 Sekav got a golden handshake of N500k from his state governor, Samuel Ortom and automatic employment for his 'journey'.
Speaking after his 'feat', the young lad said the NYSC management threatened to seize his discharge certificate and bundle him into a bus when he first announced his decision to embark on the journey.
Recall that Isaac, who passed out 4th of November 2016 and began his tour on the 5th of November 2016, had earlier announced that he will be embarking on a "Patriotic Tour" from Ibadan to Makurdi on bicycle.
Isaac, an ex-student of the Federal University of Agriculture, Makurdi (UAM), said despite the discouragement from the management and some of his ex-colleagues, he embarked on the journey to set record.
"I was threatened by the authorities of NYSC in their office that if I continue to insist on taking that risk of patriotic tour on a bicycle, they will seize my discharge certificate, put me in a car, send me home, then send my certificate to my father.
"I said ok; I left the office disappointed. But they were saying all these because of the risk for my life, even family members kicked against it. It turned out to be a success, glory be to God".