Human rights lawyer and activist, Femi Falana says President Muhammadu Buhari did not appoint him a minister for "ideological reasons".
He said some people believed that he was "too radical" and should not be made attorney-general of the federation and minister of justice. Speculations that he would be appointed minister were widespread, but Buhari picked Kayode Fayemi from Ekiti state. Fayemi was governor of the state and worked closely with Buhari during the presidential election.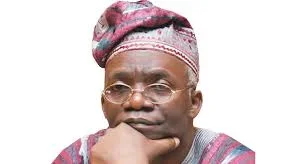 Confirming the speculations to The Interview magazine, Falana said: "I was actually contacted. I was actually invited to come on board. It took me appreciable time to make up my mind. Along the way, I was made to understand there were people who were opposed to my appointment for ideological reasons. It is their right to do so."
He said the appointment of ministers is within the "exclusive discretion of the president" and that he had put the episode behind him. "For me, it would have been a call to service, not to make money," he said. "Those who believed… that I should mobilise people to put in a word for me, or wanted me to speak to somebody I fought on principle several years ago were, of course, disappointed. This guy actually headed one of the universities at a time students were killed.
"I had to support the students' cause at that time. You don't then expect me to go to him and swallow my vomit. This is what I mean by the ideological price."
-
The Cable