Although star actress, Mercy Aigbe, is going through a rough patch in her marriage, it did not stop her estranged husband, Lanre Gentry, from wishing her a happy birthday via his Instagram handle.
He said in the post, "
Today, you are @40. Even though we are fighting I still say happy birthday to you because you are still my wife and my children mother as I use to call you ones again happy birthday to you Mercy Aigbe Gentry. Long life and God bless you (sic).
"
Despite the birthday wish, her husband's absence at her birthday party was conspicuous.
In a chat with Saturday Beats, Gentry revealed why he was absent at his wife's 40th birthday party especially at a time people felt they were making reconciliatory moves.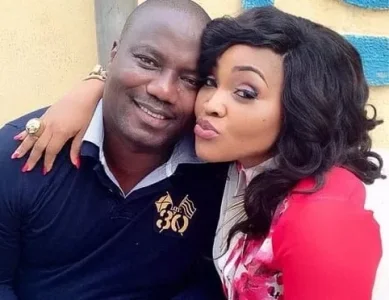 "The main reason I was not at her birthday party was that I was not in Nigeria on that day. I travelled to Dubai and I returned on Wednesday. Despite the fact that I was not in the country, I bought her a birthday cake and other gifts I would not want to mention because it is an issue between husband and wife," he said.
He said, "Mercy and I are not fighting. We talk every day. I know that in the birthday wish I sent to her via Instagram, I wrote that we are still fighting but what I actually meant was not a real fight but the normal lovers' quarrel. I am a very peaceful person and I don't like fighting, most times, I compare myself to water which has no enemy.